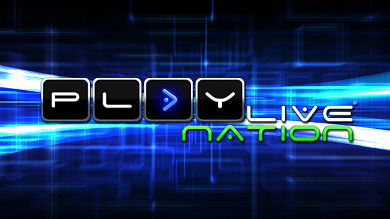 Play Live Nation April Events
Now through April 27, 2018
Magic The Gathering:Commander - Tuesday April 3rd,10th, 17th, 24th
6:00PM-9:00PM

Play against others in a community favorite. Play and use cards across Magic The Gatherings 25 years of existence.
Magic The Gathering: Bi-Weekly Draft April 20th 6:00PM-9:00PM

Come in and build a magic deck on the spot and
compete with an impromptu deck. The cards you choose you get to keep! Price of entry is $15 which will get you 3 boosters worth of cards.
Call of Duty: Black Ops 3 Zombies TOURNAMENT April 16th
6:00PM-9:00PM

Come in and compete against other zombie killers to see who lasts the longest in our endurance test. Players will have one try to see how many waves of zombies they can clear.

Top winners will receive memberships and or free game time and be
placed on our leader board for notoriety.



Terrashock Gaming Presents: Revival (Smash Bros& Arms)
April 4th, 11th, 18th 5:00PM-7:00PM


Located at PLAY Live Nation in the Vintage Faire Mall in Modesto!
We're bringing you a REVIVAL of Smash 4 + ARMS weeklies!
Wednesday, March 14th 2018 5:00 PM Sign Ups Open/Casuals: 5:00 PM
Entry: $5 ($3 if you bring a set up!) Tournament: $5 per event.
Start Time:
6:00 PM



Yu-Gi-oh - Wednesday April 4th,11th, 18th, 25th

Come in and play a fun casual game of Yu-gi-oh in a
friendly atmosphere against other players every wednesday from 3pm-9pm for
Free!



Table Top Thursdays - April 5th, 12th, 19th, 26th

Come in every Thursday to enjoy your favorite tabletop
game with new people, or learn a new game while you are here. All it costs is
the price of any drink.



Parents Night Out - April 13th, 20th, 27th 6:00PM-9:00PM
Come in and drop off the kids and have a night out on
the town with piece of mind that your kids are in a fun and safe environment.
Kids who attend Parent's Night Out will get food and beverages with the
purchase of a ticket. Kids 8-12 are eligible to attend Seating is limited Call
and reserve your seats today, tickets are $18.50.



Fundraising Event For LT Governor Tim Ferreria - April 6th from
6:30-830PM


PlayerUnknown's Battlegrounds Duo's Tournament


Think you got what it takes to get the prized?
"Winner Winner Chicken Dinner?"
Come in and put your skills to the test in a Battle Royale Frenzy. Players will have 3 chances to recieve the highest placement. The highest position achieved will be counted, if a tie occurs between two teams. Kills from all 3 rounds collectively will be the tie
breaker. Tickets are $10 to register.