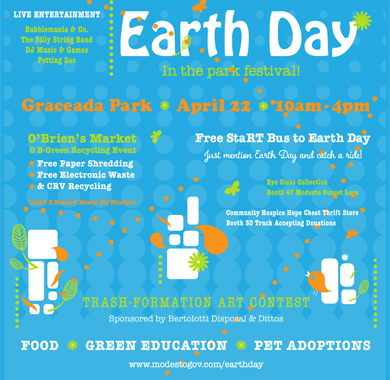 Kids Club: Powered by Nat Geo Kids
October 19, 2017 3:30 PM - 11:59 PM
Free, fun & educational games and activities for kids!

The Vintage Faire Mall Kids Club is a great opportunity for your child to learn in a fun, and interactive setting. We've teamed up with National Geographic Kids to create activities and games that focus on discovery through play.

Hosted by DJ Walker of KAT Country and with our "Storytime" partner The Stanislaus County Library, Kids Club takes place on the third Thursday of the month in Center Court from 3:30 - 5:00 p.m.
Thursday, April 20
EARTH DAY! Learn about Earth Day and the importance of taking care of our environment with the City of Modesto's Parks and Recreation Department. Please save the date and come celebrate Earth Day's 28th year in Modesto on Saturday, April 22, 2017!
Earth Day Trashformation Contest Application
Find out more about the 2017 Summer Activity Guide!
Modesto's 28th Annual Earth Day in the Park Festival will be held on Saturday, April 22, 2017 at Graceada Park, located at 401 Needham Street, from 10 a.m. to 4 p.m. This popular free community event provides a unique opportunity to learn about the environment in a family-friendly setting. It's an entire day of "green" education, live entertainment, fun activities for all ages, great food, and the return of the Trash-Formation art contest for students K-12 and so much more!
2017 CALENDAR OF EVENTS
April 20 - Earth Day
May 18 - Modesto Symphony Orchestra
June 15 - Backyard Animals & Stanislaus County Fair
July 20 - Sutter Health / Memorial Medical Center: Summer Safety
August 17 - Insects!
September 21
October 19

SPECIAL EVENTS
SANTA'S ARRIVAL BREAKFAST
Saturday November 4

~ ~ ~ ~ ~ ~ ~ ~
Have Questions?
Text Us at (209) 284-6240